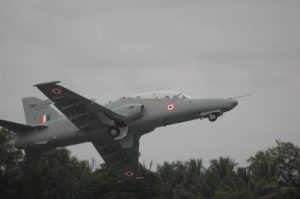 India is going slow on the development of a combat variant of the Hawk Advanced Jet Trainer (AJT) as there has been no demand for it from the Indian Air Force.
Hindustan Aeronautics Limited (HAL) and BAE Systems have teamed up to develop the combat variant, which will be a slow flying, ground support aircraft. The two had signed a Memorandum of Understanding (MoU) in the past to explore the possibility.
"The Air Force has so far not shown any interest in acquiring the combat Hawk. So we are taking the project slowly," defence sources said.
India had contracted 123 Hawk Mk-132 AJT aircraft from BAE Systems of the U.K. for the IAF and the Navy.
Another order for 20 aircraft to equip the Surya Kiran aerobatics team is in an advanced stage. HAL is assembling the Hawks in India under a license.
Under the new plan, the idea is to equip the Hawk jet with air-to-air and air-to-ground missiles, rockets and bombs to transform it into a combat platform.
"Discussions are under way between HAL and BAE Systems to work out the model of development of the advanced Hawk," another official said.
In a related move, BAE Systems is bringing in a technology demonstrator of the combat Hawk which would be displayed at the upcoming 'Aero India' air show at Bengaluru next month.

Source:- The Hindu
Source: Defence Update