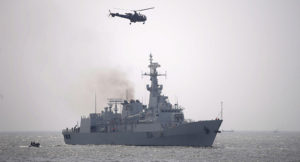 Pakistan has officially begun construction of a missile warship that the country hopes will guarantee the integrity of its vital trade corridor with China.
The China-Pakistan Economic Corridor is key to the financial and national security interests of both countries. For Islamabad, Beijing's capital investment in infrastructure projects offers promise to give the country's economy a much-needed boost. But Beijing also relies on Pakistan's navy to ensure the safety of oil shipments from the Arabian Sea and surrounding maritime regions.
In that regard, China is sharing Azmat-class ship technology with Islamabad, including the "latest weapons and sensors," according to the Pakistani military's Inter-Services Public Relation media branch.
Images of the ship's construction indicate that, unlike the standard Azmat model, the new ship features larger, more powerful missiles, which some believe could be the C-602, a Pakistani version of the Beijing's YJ-62, Defense News reported. Islamabad's latest anti-ship missile, Zarb, codename for the C-602, enables a 300 kg warhead with a 280 km range. Pakistan hopes to arm the ship with precision-guided bombs for deployment against aerial and land-based foes. A naval launcher of land-attack bombs remained incomplete as of last year, Defense News noted.
US Destroyer Intercepted at High Speed by Iranian Vessels Near Strait of Hormuz )Keeping maritime pirates and other malevolent adversaries clear of Pakistan's port of Gwadar is essential for China, whose appetite for energy sources climbs by the day, along with the growth of its middle class.
As previously reported, the Strait of Hormuz sees 20 percent of all oil traded in the world daily transiting the key waterway. But from there, the journey is far from over, if China is to collect oil imports arriving from the Middle East and the Arabian Sea. Oil tankers face a tough challenge navigating through the narrow Malacca Strait, and could eventually be escorted by the new Pakistani vessel.
Source:- Sputnik news
Source: Defence Update