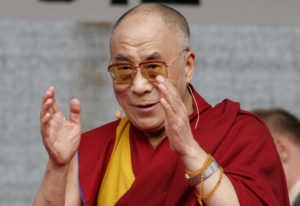 China has all but curbed the movement of Tibetans crossing over into India in order to prevent people from its restive Tibet Autonomous Region from attending an important Buddhist event where the Dalai Lama is in attendance. Beijing had also asked Tibetans in India to return home before New Year's Eve, warning their families of repercussions if they failed to return within the give time frame.
While China has often been accused of following oppressive cultural policies in Tibet, this is the first time it has gone to the extent of blocking the border altogether for pilgrims and calling back those already in India.
"The local authorities in Tibet asked the families of pilgrims in India to return before the onset of the New Year. In the past, Tibetans who have failed to obey official orders have been fired from their jobs, or in some cases, their children have been thrown out of school," Tenzin Lungtok, the acting Secretary at Tibet's government-in-exile's culture and religion department told InUth.
Lungtok said most of the Tibetans have returned home following Beijing's diktat. He noted that Kalachakra, a 12-day Buddhist teaching event that started on Jan 2 in Bodh Gaya in the state of Bihar, is otherwise a big hit among Tibetans and Buddhists all over the world.
"It is an initiation ceremony, a very important event for Buddhism. We are expecting that over 2 lakh people from different parts of the world to attend the ceremony."
Lungtok said that there were no such restrictions on the movement of Tibetans the last time this event was held in Ladakh in 2015.
Chinese state media reported earlier this week that the border controls were being placed to keep a check on "terrorism" and "separatism", believed to be veiled references to the 81-year old Dalai Lama, who Beijing has often accused of stirring up political unrest in Tibet.
"As Tibet further opens up with fast economic development, the border areas have witnessed more disputes and diverse criminal activities, including those involving separatism, illegal migration and terrorism," The Global Times reported, quoting a Chinese border guard in Tibet.
Since it annexed Tibet in 1951, China has always been chary of the influence of the Dalai Lama, the spiritual head of the most popular school of Buddhism. It is learnt that the Dalai Lama enjoys a good following among some sections of the population of mainland China, much less Tibet.
However, Chinese media reports have been silent on Tibetans being called back from India.
Beijing at times has accused India of politically enabling the Dalai Lama to drive a better bargain in its bilateral dealings with China. The Dalai Lama fled to India in 1959, in the wake of failed popular uprising against Chinese rule.
The authorities in Beijing are understood to be promoting their own variant of Buddhism in a bid to counter the influence of the Dalai Lama in China. The official news agency, Xinhua, reported on Tuesday that a Buddhist convention organised in Tibet had been attended by around 200 monks.
The last Tibetan uprising in 2008 failed to dislodge Beijing-backed leadership from Tibet as well, also inviting brutal crackdown from authorities in the aftermath.
Supporters of the Dalai Lama and the Indian government have maintained that the 81-year old monk's activities are purely religious and apolitical in nature.
Source:- InUTH
Source: Defence Update